When should I replace my furnace? And when does it just need a simple repair?
These are questions homeowners find themselves asking for a variety of reasons. Maybe rising energy costs are the impetus for considering furnace replacement. Maybe it's fluctuating in-home temperatures, or plain old age.
Regardless, they're important questions to ask. Understanding the answers can save you money and the stress of having to make a quick decision when there's no longer a choice.
Let's take a look at a few factors to consider when considering whether a furnace needs to be repaired or fully replaced.
1. How old is your furnace?
This is often the first factor to consider when determining whether or not your furnace should be replaced: the age of the furnace.
The reality is that furnaces, like all things, wear down over time. The typical lifespan of a furnace is about 20-25 years, and the expected value you can get from a furnace decreases with use and age.
So, if your furnace is 10 years old, it may be worth it to spend $1,000 on a repair, but if the furnace is 20 years old it's almost certainly better to replace it.
The chart below visually represents this principle. Note that these numbers aren't exact, but represent generalizations of expected replacement cost limits.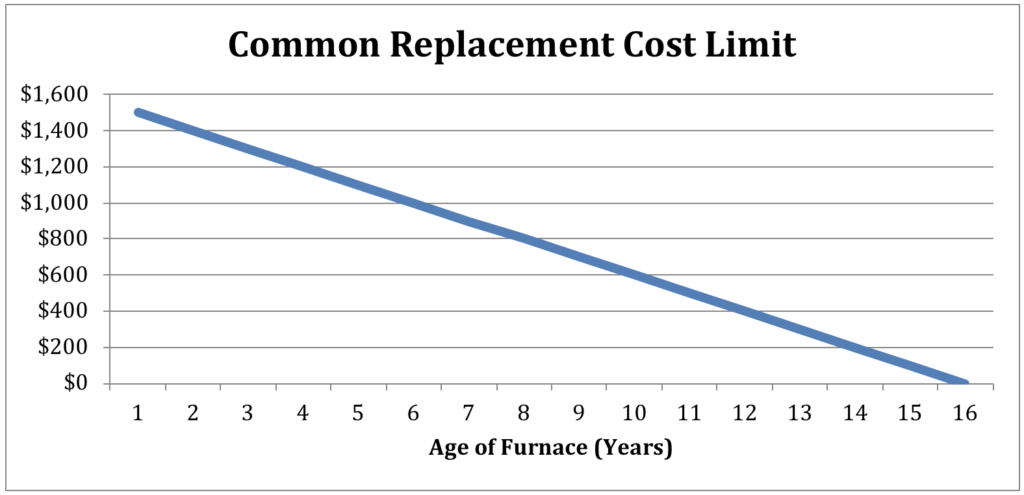 2. What is the cause of the issue, and what work would need to be done to prevent it from reoccurring?
If your furnace is giving you issues – whether in the form of fluctuating in-home temperatures, inefficiency, or complete malfunction – it's important to understand why.
As with most problems, understanding the cause of the problem can help to inform what a solution should be.
For furnace issues, this starts with identifying which pieces aren't working properly. Here are a few common parts that may cause issues or need to be replaced, along with expected cost to repair:
Blower motor replacement: $500 – $700 in parts and labor.
Control board replacement: $500 – $700 in parts and labor.
Inducer motor replacement: $500 – $700 in parts and labor.
Heat exchanger replacement: almost always worthwhile to replace the entire furnace. Replacing a heat exchanger is like replacing the entire motor on a car.
You can use the cost of a replacement part in combination with the chart above to determine whether or not the repair is worthwhile. However, replacing the part is only one step.
Too many HVAC companies will identify a problem and send a tech to switch out the offending part, but fail to address the underlying cause that's causing the part to break. Companies who do this are like dentists who recommend that patients keep getting cavities filled, but never mention that it'd be best to stop eating huge amounts of sugar.
Anyone can switch out a part, but accurately diagnosing the underlying cause takes a higher level of expertise – and it's an essential part of actually solving the problem in a way that ensures it doesn't happen again.
Make sure to consider the cost of addressing any underlying issues in addition to the cost of simply replacing a part.
3. What is the status of the warranty on the parts that need to be replaced?
In addition to the age of your furnace, the status of the warranty on your furnace is another important consideration to take into account.
This is mostly due to the fact that the status of a warranty impacts the cost of replacement – and the value you can expect to get from the part going forward. If there is no warranty on a part, it's more likely that replacing the furnace will become a viable option.
4. Are you satisfied with the performance of your furnace?
Finally, when considering whether you should repair or replace your furnace, it's worthwhile to ask yourself: are you satisfied with the performance of your furnace?
If you are: great. Use the aforementioned factors to determine whether a repair or replacement is necessary.
In some cases, though, you may be able to repair a furnace at a cost-efficient price; your furnace may be new enough to maintain value, and the parts may be easily replaceable and under warranty.
But, if you're not satisfied with your furnace's performance, it may be worthwhile to look at alternative replacement options in spite of those factors.
Choose a HVAC Company That Can Help You Make the Right Decision
If you're considering repairing or replacing your furnace, the best decision you can make is to get the support of a trustworthy HVAC company to assist you. Because, unfortunately, the truth is that many companies will jump to replace your furnace regardless of whether or not that's the best solution for you.
That shouldn't be how it works.
At Rod Miller, we won't sell you a new furnace if you don't need one. That's why we offer free second opinions on diagnoses done by other HVAC companies in the Maryland area.
If you've had a technician recommend a replacement, let us take a free second look. Sometimes, a replacement is needed. But, nearly half the time, we find that systems other companies recommended be replaced can, in fact, be repaired at a much lower cost.
Our primary goal is to help our customers – not to make money through unnecessary replacements. We'll be honest if you need a replacement, but we'll hold you back from making that leap if it's unnecessary. So, if you're considering a furnace repair or replacement, give us a call or get in touch with us online. We pride ourselves on our HVAC service in Bethesda, Gaithersburg, and Frederick.
Our promise is that you can trust your home or business to us.