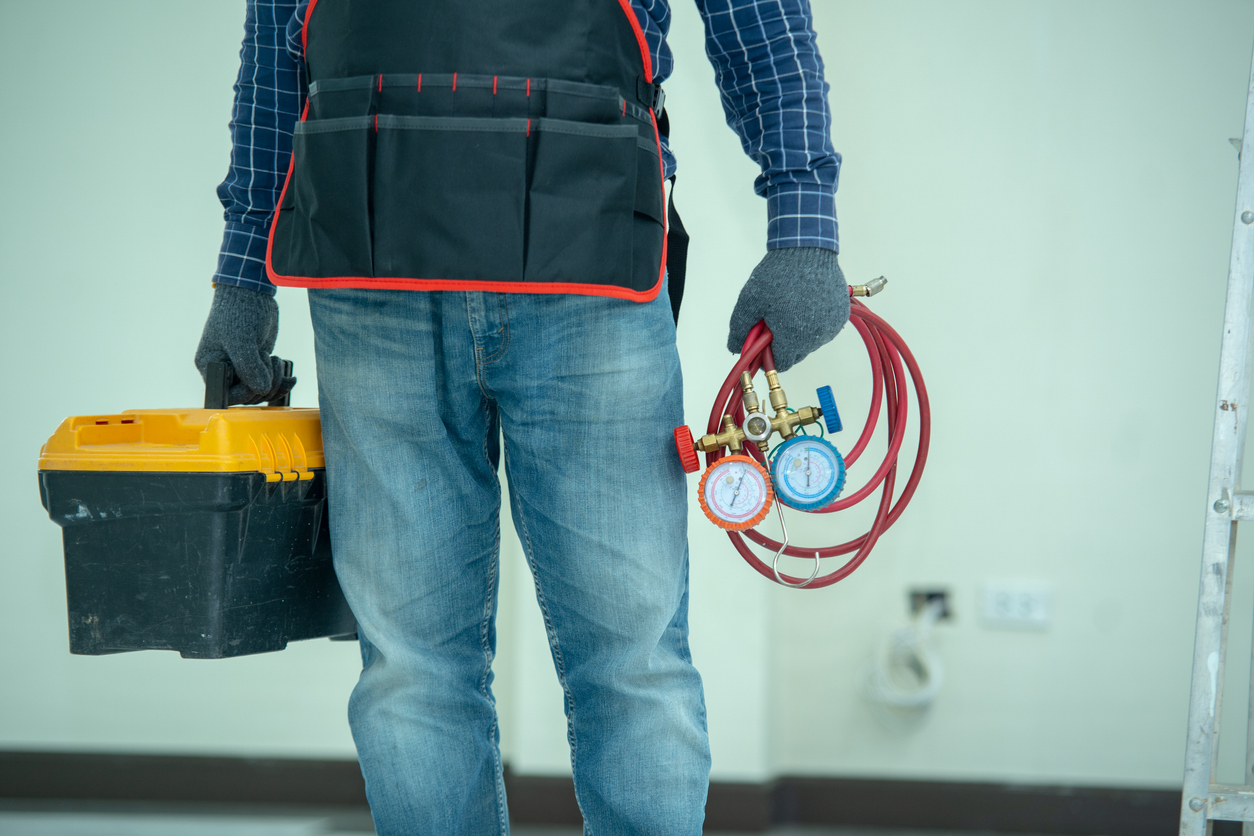 Being an HVAC technician is an awesome job.
You get to do meaningful work – you get to maintain and fix the HVAC systems that keep families safe and comfortable. You get to be mentally and tactilely engaged – you're tackling HVAC issues that are challenging but satisfying to solve. And, in the best HVAC companies, you get to access opportunities for career advancement – you can grow and provide for your family.
Again, it's an awesome job. HVAC technicians definitely reap a lot of benefits, and the trade is all the more appealing because, unlike college, it won't leave you thousands of dollars in debt.
But the job requires a lot, too. Would-be technicians have to have a unique makeup in order to obtain the role, and, eventually, to thrive in it. They've got to have hard technical skills and soft people skills. And, maybe most of all, they've got to want it.
With that in mind, here's what it takes to be an HVAC technician.
1. You've got to be hungry.
To be an HVAC technician, you have to be driven. Becoming an HVAC technician isn't something you can do well half-heartedly; there's too much effort involved.
For instance, to get a journeyman's license, HVAC techs typically attend four years of night school (or an equivalent trade program). These programs teach the fundamentals of the business as well as the technical aspects that techs need to do their jobs well. They're typically spread out over a longer timespan because techs need on-the-job experience as part of the educational process.
If you aren't driven – if you don't really want to be an HVAC technician – it's hard to stay motivated through four years of school. The challenges of fixing HVAC systems have to excite you.
You have to be hungry
2. You've got to be well-rounded mechanically.
HVAC work requires a well-rounded skill set. In other words, HVAC techs are the Swiss Army Knives of the trade world: they do a little bit of everything.
Technicians have to know a little electric. They have to know a little plumbing. They have to know a bit of programming. It's because HVAC systems are complex, and they interact with most of the other systems in a home. To solve problems and to properly maintain HVAC, techs have to have a baseline of experience with other systems.
The variety of knowledge that's involved makes the job challenging – and fun, too.
3. You've got to be able to communicate well.
In addition to having hard skills, technicians also need to have people skills. It's pretty straightforward, really: they just need to be able to communicate well with absolutely anyone.
And to make things more difficult, HVAC technicians commonly face communication contexts where the odds are stacked against them. They're often entering stressful environments where the homeowner is frustrated, uncomfortable (without AC or heat), and wary of being ripped off.
It's not just about figuring out what's wrong and how to fix it; HVAC technicians need to be able to explain clearly what they plan to do and why in a way that makes the homeowner feel cared about and at ease. They have to come off as knowledgeable but not condescending. They have to present a solution without coming of as a salesperson.
They have to communicate well.
It's hard. But the good news is that communication skills can be improved; experience and training help. And if you can master the tech skills and the people skills involved in HVAC tech work, you'll be primed for an incredibly rewarding career.
Want to Learn More About Rod Miller's HVAC Technician Roles?
The truth is that becoming an HVAC technician and thriving in the role takes drive and skill – but it's worth it. There are few feelings better than the satisfaction of fixing things that were broken. At the end of each day, HVAC techs get to go home knowing that they've left each home a little bit better than when they found it.
At Rod Miller, we're proud of our technicians, and we're proud of the way they treat our customers like family. If you're looking for top quality HVAC maintenance, installation, or service, our techs are the people to call.
And if you're interested in becoming an HVAC technician, we'd love to hear from you. Check out our careers page for more information on our available positions and apprenticeships and start moving toward a trade that will help you avoid college debt, grow professionally, and serve meaningfully. We're always looking for people to help us serve Maryland homeowners well.