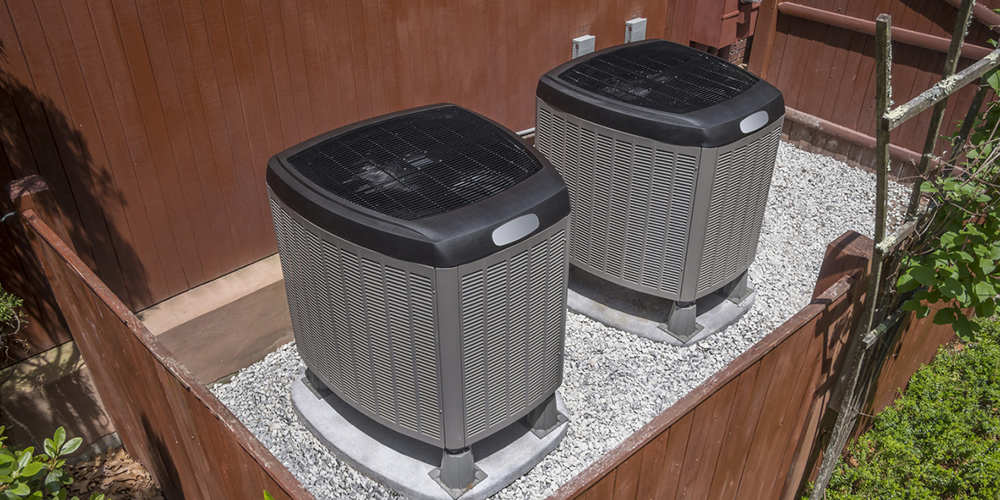 We always repair HVAC systems when we can – but sometimes, it's just better to get a new unit.
Maybe breakdowns are becoming too frequent, or maybe your unit just isn't doing a great job at cooling your home anymore.
It happens.
Most AC units last well over a decade, but all AC units break down eventually. Choosing a new one is a big (and, honestly, expensive) decision. That's a little intimidating, but don't worry – we're here to help.
Here are four factors to think about as you choose the right AC unit for your home.
1. Get a unit that's the right capacity.
This is the most basic consideration to make – you should get an AC unit at a power rating that fits the size of your home.
The metric for measuring that, strangely enough, is tons.
An AC unit "ton" is not a measurement of weight; it's a measurement of heat reduction over time. A single ton of air conditioning can remove 12,000 BTUs (British thermal units, which are units of heat) from the air per hour.
The most powerful AC units are rated at five tons, which means they can remove 60,000 BTUs from your home per hour.
Some owners, when they hear this, say, "Great – so give me the five-ton unit, and my home will be really cool." That's not how it works, though. The number of tons you need is dependent on the distribution of your ductwork and the space in your home. Bigger homes with more ductwork need higher-powered units; smaller homes don't.
If you get a unit that's too powerful for your ductwork, it'll break down. If you get a unit that's too powerful for your square footage, it'll cool your home so quickly it won't have a chance to take any moisture out of the air, leaving you with high humidity.
The best approach is to consult with AC experts to find out what tonnage you need. You may be able to flex up or down by half a ton, but you should be careful to get a unit that fits your home.
2. Select for the right amount of efficiency.
The second consideration to make when you're choosing a new AC unit is to determine how efficient you want it to be.
Efficiency refers to the ratio between heat removed and power (in watts) used. The unit for measuring this is SEER (seasonal energy efficiency rating). Basically, the higher the SEER, the less energy is wasted as the AC unit runs. It's similar to how miles-per-gallon works for cars.
More efficient units are more expensive upfront, but because they run on less energy, they tend to save you money over time.
For example, below is a cost estimate for four systems with different efficiency ratings. At 19 SEER, Investment 3 (in the right-most column) would likely translate to savings of $588 per year.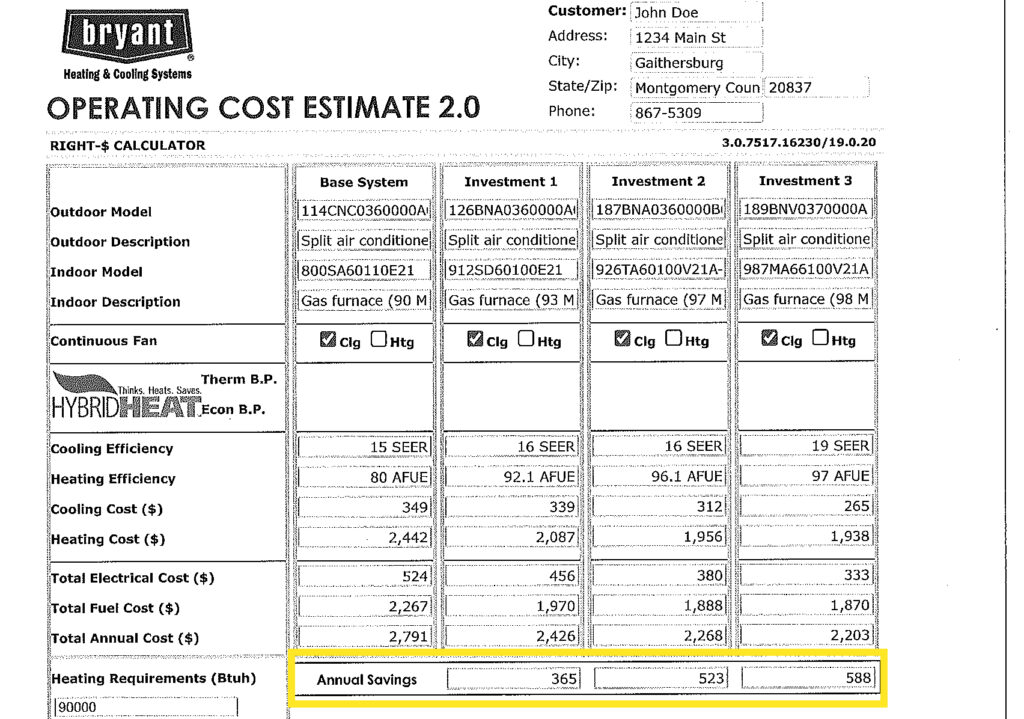 3. Choose a good brand.
With power and efficiency considered, the key factor remaining in your decision process is to pick a good brand.
There are a few premier brands with fairly comparable models: Bryant, Trane, Carrier, and Lennox. On the next rung are brands like Goodman and Rheem. Finally, there are generic offerings.
At Rod Miller, we're Bryant dealers (although we service all units), so it probably won't surprise you that we recommend Bryant units as the best on the market. But if you choose another top-line brand, you'll still be getting good quality.
We do recommend that you stay toward the top of the ladder, though, because generic brands tend to have more manufacturing quality issues and less infrastructure for support.
The top brands do a great job of educating HVAC professionals on how to repair their products, which means that if you do have an issue, repairs are typically easier. The lower-level manufacturers are focused on low costs, so their products tend to break more often and they're typically harder to repair.
4. Be aware of upcoming changes.
Finally, as you think about getting a new AC unit, it's worth noting that there are a couple of major changes coming to the market within the next couple of years.
In 2023, the minimum efficiency rating required for AC units in Maryland will move up to 15 SEER. In that same year, new units will be designed to run on R–454B refrigerant. All of this means that, if you're considering buying a new unit, your minimum upfront cost is set to increase in two years. So, if you want to lock in a low-cost unit, it's probably a good time to do it.
Thinking about getting a new AC unit?
Hopefully, the information here is helpful as you consider your options.
If you want more help picking the right unit for your home – or if you're ready to move forward with installation – give us a call.
At Rod Miller, we've been helping Maryland homeowners to get the most out of their AC units and maintain comfortable homes for over 50 years. We can help you choose a unit that will fit the needs of your home, then install it as seamlessly as possible.