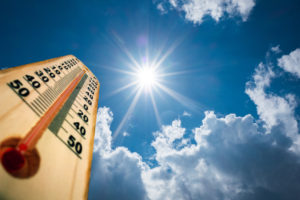 Your HVAC system isn't usually something you put a lot of thought into until it stops working. But when it does stop working, it's usually all you can think about. During the summertime you can wind up sweating in front of a handheld fan. But during the wintertime you could be turning on the stove just to warm your hands. HVAC maintenance can prevent these situations from happening.
Believe it or not, there are some things that you can do yourself to prevent your HVAC system from quitting on you. While your HVAC system will need a more thorough checkup by a professional twice a year, these tips are actions you can take regularly to reduce the risk of breakdowns.
Here are five HVAC maintenance tips for summertime.
Replace your HVAC filter regularly.
When you leave a dirty air filter in your HVAC system for too long, it can really strain your system. For better efficiency in your system, replace your filters regularly and check on them every three months to make sure they're not too dirty. If you have pets you may need to replace them more often. If you want to reduce air particles, you can use a HEPA air filter or one rated for a MERV level of 11 to 12.
The more stress your HVAC maintenance system is under, the more your heating and cooling costs increase, and the more you're likely to reduce the lifetime of the equipment and parts of your HVAC. When the lifetime of HVAC parts is reduced, the more likely you are to encounter a breakdown later on.
Remove debris from around outdoor units.
For most people, time spent outside increases over the summer. Part of the reason for this is landscaping chores. Lots of homeowners spend time gardening and mowing the lawn, while commercial real estate owners hire large crews to freshen up after (winter snows).
Make sure that when you landscape your property you're keeping up with your HVAC maintenance as well. While it may be tempting to place pants near your HVAC unit, it's best to keep the area clear of all debris. Ensure that no lawn clippings or falling leaves land near the base and remove them regularly.
When debris builds up around the base of your unit it reduces airflow into the unit and restricts its efficiency. A less-efficient unit means more heating and cooling costs for you. We recommend a two-foot clearance around the base which maximizes the airflow to heat pumps and air conditioners. Besides that, restricting debris also helps to keep the unit clean.
While service technicians will clean the area as part of your bi-yearly service, keep up with it in between routine maintenance visits to maximize your HVAC unit's lifespan.
Use fans and ventilation appropriately.
A large part of HVAC maintenance that you can do yourself has to do with ensuring your system receives proper airflow. Leaving roughly 80% of your home's vents open will help to keep up the proper airflow and increase the efficiency of your HVAC system. Closing off more than 20% of your home or office building's registers an increased strain on your HVAC network and can slow down efficiency.
You can also use fans to keep you and your pets cool while reducing strain on your HVAC system. Turning on a ceiling fan should allow you to raise your thermostat setting over the summer by 4 degrees while maintaining your personal comfort. However, remember to shut off ceiling fans when you leave the room. These fans cool down people through wind chill, but they don't affect the temperature of the room itself.
Also make sure your fans are moving in the right direction. During the summertime they should be set to turn counterclockwise to create a downdraft and decrease your body temperature through wind chill. However, during the wintertime they should be set to turn clockwise, which creates an updraft and forces down warm air near the ceiling.
Protect your water heater from leaks.
Even though it's hot outside, don't forget to maintain your water heater as well. Check often for signs of leaks or erosion that could reduce the efficiency of the system. You can also invest in a water leak or freeze detector to let you know when there's an issue with your pump.
Make sure you check the age of your water heater and replace it before it reaches the end of its life expectancy. If it goes past its expected replacement date, the risk of a breakdown increases greatly.
Last but not least, clean out your water heater every six months. Spring and fall are great times to do so. You can flush out the water heater with a garden hose once the water temperature has cooled and the power has been shut off. This is very important to ensure sediment doesn't sit in the tank for too long.
Use your thermostat mindfully.
HVAC maintenance doesn't need to be a specific action taken every few months. It can be incorporated into your daily habits. Using your thermostat mindfully is a great way to reduce strain on your HVAC system and therefore lessen your financial costs and risk of a breakdown.
Your thermostat is similar to the command center of your HVAC system. You can greatly reduce the strain on your HVAC by using your thermostat thoughtfully. The smaller the difference between indoor and outdoor temperatures, the less your HVAC system has to work, and the more you'll saving on your heating and cooling costs.
To maximize efficiency, keep the temperature as high as comfortably possible in the summertime. When you leave, keep your house warmer than normal and set the thermostat to 78 degrees when you're home and need cooling. A great way to do this is to invest in a programmable thermostat that makes it easy to set the temperature for when you're home versus away.
The best maintenance is preventative maintenance.
While you can use these tips to reduce the strain on your system, it is still best to hire an HVAC maintenance professional for biannual cleanings. Maintenance may not be first on a homeowner's mind, so take steps to ensure it happens with a service contract from Rod Miller Heating and Air Conditioning.
Our service agreements are for both commercial real estate or residential homeowners. They feature two maintenance check-ups a year, with full testing on all system components, priority scheduling, and even 10% off on any parts your system requires. Don't wait until the last minute when your HVAC system breaks down. Use proactive HVAC maintenance with Rod Miller for the most savings and the fewest breakdowns.
Give us a call today.