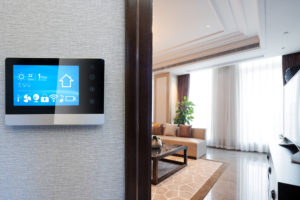 As HVAC providers, we're trusted to work in a lot of homes throughout the Maryland area, so we get a pretty good feel for rising home trends.
One of the coolest things we've seen within the past several years is the rise of smart home technology.
So, what is a smart home, exactly? The definition is a little nebulous, but the core of it is this: a smart home is a home enabled with remote monitoring and control for systems such as lighting, heating, air conditioning, entertainment, and appliances, enabling them to communicate with each other and be optimized for performance, whether or not a person is in the home.
It's pretty futuristic, and the applications are broad. It's not an exaggeration to say that smart home technology is changing the way people interact with and use the systems in their homes.
And that includes how HVAC systems are used and managed.
With that in mind, let's take a look at the basics of smart home technology.
The Benefits
Sure, smart home tech is cool. But does it actually have any tangible benefits?
If you're reading this, you probably already know the answer to that question: of course, it does. There are three main benefit areas to smart home technology.
Ease of Use
First, connected systems are simple to use.
Want to dim the lights in the living room while you're watching a movie – without getting up from your comfy seat? No problem. Just flip the setting on your app, or, if your system is voice connected, just tell your chosen assistant to dim the lights. Do you want to turn up the air conditioning a bit? No need to head to the thermostat – you can do it from your smartphone.
And that's just the start. With connected appliances, you can make things even more intuitive. Connected fridges can let you know when you're running low on milk. Smart plugs can control power to any device in your home. Smart doorbells alert you to visitors, even when you're not home.
Altogether, smart home technology can make life a little easier.
Peace of Mind
Not only that, but smart home technology can let you rest a little easier, too, knowing that your home is safe and protected at all times.
Most obviously, smart security cameras – on doorbells, interior systems, and exterior systems -can monitor a home and send live footage directly to your smartphone. They can even provide alerts if there's suspicious motion when there shouldn't be.
Wondering whether or not you remembered to lock the door on your way to work? Smart locks mean you can be assured of security, even if you're forgetful.
And other systems are protected, too. For example, smart water monitors can monitor for leaks – and, if a leak is detected, they'll notify you via an alert, and even go as far as shutting off the water if you're not home to prevent further damage.
Practically, that means that if your toilet bursts when you're on vacation, you don't end up coming home to a frustrating amount of water damage. Your smart technology stops the leak, and all that's left to fix is the broken pipe.
Cost Savings
And that brings us to the third benefit of smart home technology: cost savings.
Put simply, smart technology makes homes more efficient. You can schedule for systems to run when you need them to – so, no more wasted energy costs from forgetting to turn down the air conditioning when you're out of the house. Or, if you leave a light on as you head out to work, it doesn't have to be an energy drain all day – you can easily turn it off remotely.
Smart technology makes homes more efficient, and, ultimately, saves you money in the process.
How to Choose a Smart Home System
There are a variety of smart home platforms available, and it'd be impossible to cover the range of systems in this article. But, we can give you a starting place: here are two platforms to look into.
Lyric
Lyric is Honeywell's smart home platform. It's plays well across a variety of systems – it integrates with Amazon's Echo, Google Home, and even the Apple HomeKit. The app is intuitive and easy to use, and allows for full connectivity with Lyric devices, including thermostats, water leak detectors, and security components.
Côr
Côr home automation products include innovative thermostats, lighting solutions, and home security offerings that can all be centralized on the Côr hub and controlled easily via app. And, they've partnered with premiere brands, including Bryant, so the quality of their solutions is proven. Accordingly, this platform is one of our favorites.
Nest
Nest is one of the better-known home automation brands on the market today. They're integrated closely with Google, which means Google's assistant fits well into the ecosystem. And they offer solutions across a variety of home systems – from thermostats, to locks, to security cameras, and on.
How We Help with Smart Homes
As an HVAC provider, our exposure to smart home technology began with the rise in smart thermostats. They're an integral part of a connected home, allowing for full remote control over HVAC systems.
But we're problem solvers, so we quickly realized that in order to implement smart devices as efficiently as possible, it'd be essential to understand smart technology comprehensively.
That's why we offer smart home setup and training for a breadth of smart home devices.
Are you considering installing a smart thermostat or other smart home technology? We're here to help. Implementing smart home technology can be difficult; there are a lot of factors to consider in choosing a platform, and actually doing so can be expensive. But choosing to work with us can make life easier, and it can even increase your savings. Some installation options require an upfront fee plus monthly costs. But you don't need to pay monthly if you don't need monthly monitoring.
We can install your equipment, train you on its use, and help you put it to work for savings and peace of mind – without the burden of a recurring monthly cost.
To learn more about how we can help with smart home technology, get in touch with us. Our promise is always that you can trust your home to us – even your smart home.