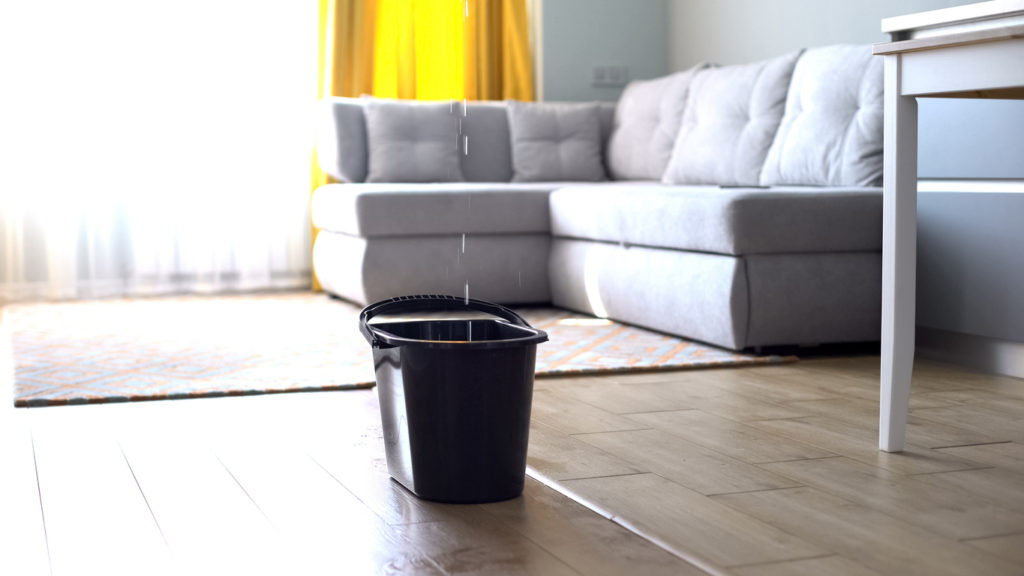 Have you had your AC drain line checked recently? If you haven't, you may want to.
We're entering the time of year – August and September – when drain line leaks become more common. Your AC unit has (hopefully) been a trooper, powering through the smothering humidity of the Maryland summer to keep your home cool over the course of the last several months. In the process, it's probably produced a lot of condensation, and all of that water has been guided away through your drain line to keep your systems running smoothly.
But sometimes things don't flow as smoothly as they should.
The Problem
After a summer of use, it's not uncommon for buildup to accumulate in your drain line. And that's bad news, because:
AC drain lines are kind of easy to clog.
While drain lines are responsible for ferrying away all of the moisture that accumulates on your unit's condenser coils, they're built for efficiency, not for channeling torrents of water. A typical drain line has a circumference of only ¾ of an inch, which means it doesn't take much to clog it.
If there are any breaks in the line, or if debris has entered your system somewhere it shouldn't, or if you haven't changed your air filters in too long – buildup accumulates, and lines get clogged. This is a common AC repair issue.
Clogged drain lines leak and cause damage.
When lines get clogged, the water still has to go somewhere. Usually, the place it ends up going isn't a place you want water to be.
Depending on where your drain line is placed, you may not notice the leak until water accumulates in your basement or drips from the rafters. If you reach a point where the leak is obvious, there's likely already been a significant amount of water damage.
That's obviously not good.
The Solution
That's why it's worth getting your drain line checked this time of year. You can take the first steps toward a clear line yourself, but if you have a serious issue, you'll want the help of an expert.
Here's what we recommend.
Perform preventative maintenance.
By this, we mean the following the straightforward steps to taking care of your HVAC: Replacing your system's air filters (at least every three months) and clearing debris from around your unit.
If you regularly do these things, you greatly reduce the risk of drain line leakage.
Check it yourself.
This is a good move if you want peace of mind, but it's only possible if your drain line is exposed to your view. Some drain lines are, but many aren't.
Try a DIY unclogging method.
If you have clear sight on your line and you do notice buildup or the beginning of a leak, you can try a DIY unclogging method. We recommend mixing a solution of three-parts-water to one-part-Clorox and pouring it into the line. Let it sit for 15-30 minutes, and then flush it with clean water. Afterward, closely monitor the line to see if the issue has been resolved.
Get expert help.
If the issue hasn't been resolved (or if you aren't able to see your drain line in the first place), it's best to call for expert help.
Our technicians are well-trained in clearing drain lines; we may use a snake to clear buildup from the line, or simply blow it out with high-pressure air. Often this is all that's needed to get things flowing smoothly again.
Get it moved or replaced.
If, however, the problem is significant or recurring, then we may advise you to take the next step and have your drain line moved or replaced. Your drain line shouldn't have sediment clogging it every other month. If that's happening, there's a problem that needs to be addressed. Our expert techs will help to diagnose the root issue and get your AC repaired.
Ready to Get Peace of Mind on Your AC Unit?
Hopefully, your AC unit has done a good job of keeping your home comfortable this summer. As we near the end of the season, it's a good time to make sure that you're ready to go for the future, too.
Don't wait until your line is leaking, because at that point, it'll be too late.
Call today for a maintenance checkup, and our expert technicians will review your systems to ensure they're in working order and offer AC repair if they're not. We can quickly clear out and confirm drain line functionality so that you can minimize the risk of water damage and get the comfort you and your family need.