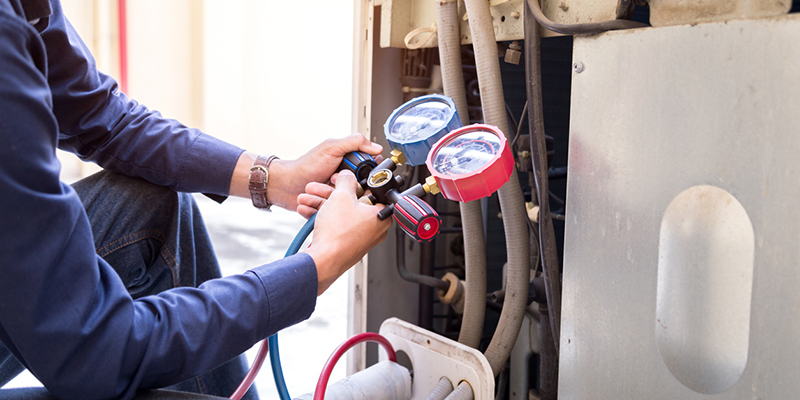 Thinking about scheduling HVAC maintenance this spring? Good call.
To ensure you're prepared, here's what you can expect from your maintenance visit.
1. Your technician will call you to let you know they're on their way.
First things first: Your technician will give you a call to let you know when they're on their way to your home.
It's important to note here that we don't guarantee the exact time your tech will show up for your maintenance checkup. Instead, we provide four-hour intervals when you can expect your tech to arrive, then ensure that you get a call beforehand so that you can be ready.
The reason we take this approach is simple – working on HVAC systems takes varying amounts of time. Technicians that are locked into set schedules don't have the ability to take longer when circumstances require it. For example, you wouldn't want your technician to discover an issue with your AC unit, only to be forced to hurry off for their next appointment without digging into it.
We don't lock in schedules so that we can dedicate attention where it's most needed, but we do communicate proactively so that you know when to expect your technician.
2. Your technician will review your HVAC systems inside.
Once your technician arrives, they'll greet you, potentially make a bit of charming small talk, and then get down to business.
The first thing they'll do is ask if anything has changed with your HVAC systems or if you're experiencing any issues (just as a doctor will ask about any new health concerns when you go in for a checkup). If you have noticed abnormalities with your HVAC, this is a great time to share it with us.
From there, your technician will usually start by checking the indoor components of your systems. These include:
Air filters. A lot of people change their air filters right before we visit – it's kind of like brushing your teeth before going to the dentist. If you forget, though, and your filters are dirty, we'll quickly replace them at the beginning of the checkup.
Thermostat. Your tech will make sure that your device is functioning the way it should and that's it's properly located within your home.
Blower motors. Your tech will make sure the motor is clean and free of obstruction so that it's primed to run well.
Run capacitors. Permanent split capacitor (PSC) motors have run capacitors that keep things spinning in the right direction. Your tech will make sure it's good to go.
Drain lines. Your tech will check that drain lines are clear and clean the trap if needed. If there's a pump integrated into the system, they'll check to make sure it works. If you have drain safety switches, your tech will check them; if you don't, they'll likely recommend them to be installed.
Indoor coil. If it's accessible, your tech will make sure that the indoor coil on your HVAC unit is clean, clear, and functioning properly.
Manual dampers. Your tech will review air flow throughout your home and adjust any dampers to optimize your system's performance.
Temperature splits. There should be about a 20-degree difference between supply and return lines. If the temperature split isn't near this interval, your tech will note it and diagnose the issue.
All told, your technician will probably spend about 10-15 minutes reviewing and testing the indoor components of your systems. Again, if any issues crop up, they'll have time to dig into (and hopefully resolve) them.
3. Your technician will review your HVAC systems outside.
Once they've looked over things indoors, your tech will move outside to continue reviewing your systems.
They'll look at things like:
Unit leveling. Your tech will assure that the unit is installed and leveled properly. They'll tighten cabinet screws, so that it operates as quietly as possible.
Outdoor coil. Your tech will check to make sure your unit's coil is free of obstruction, clean, and working well.
Outdoor run capacitors. Just as with the indoor capacitor, your tech will make sure these outdoor components (used to power the fan and the compressor) are working how they should.
Electrical components. Your tech will perform a service disconnect to check that starting components are functioning properly and review fuses.
Refrigerant. If there is a suspected issue, your tech may hook up gauges. However, doing so introduces a little bit of air and moisture into your lines, so if no refrigerant issues are suspected, your tech may simply check exposed pipes for temperatures. They'll check the refrigerant lines to make sure they are properly insulated and in good condition – without leaks.
Reviewing outdoor components usually takes around 20-25 minutes.
4. You'll be asked for approval on any work and have a chance to ask any questions.
If any issues are revealed during your checkup, your technician will explain the situation and ask for your approval before performing repair work.
Often, repairs can be performed immediately, which is why it's helpful for you to be at home or available by phone when you schedule a checkup. If you aren't available to approve work, we'll need to postpone it and come back at another time.
Whether issues are uncovered or not, checkups are also a good time for you to ask any questions you might have about your systems.
Our techs are experts at this stuff. If you're wondering anything about your HVAC – how to use your AC efficiently, which new products to consider, or how long your unit has left – your tech can provide you with trustworthy information.
Ask away!
The outcome of your maintenance checkup is optimized HVAC.
When you schedule maintenance, we'll run through all of the steps we've listed here and make sure your systems are working how they should be.
Remember, maintenance checkups don't just reduce the risk of breakdowns – they also help you to get the most out of your systems. Caring for your systems keeps them running efficiently and almost always saves you money in the long-term.
Get in touch with us to schedule yours today. As we've said before: It's a good call.