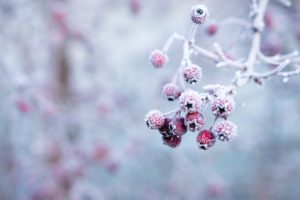 30 degrees.
Sure, it may sound downright spring-like to the citizens of Maine where it regularly drops well below freezing. But for us Marylanders, that's pretty darn cold. And not only are you cold, but your HVAC system could be experiencing cold-related issues as well. As an HVAC company in Gaithersburg, we know coming home to warmth at the end of the day is important to you.
Unfortunately, there are plenty of issues your HVAC system can run into during the wintertime. An unheated house can be a dangerous one, especially if you don't have a wood stove to fire up. Don't let it snow inside your house. Here are some HVAC problems you can avoid this year.
Icy Pipes
Water and winter don't often mix well. Frozen pipes can burst leading to a whole lot more damage than you want to deal with when it's 30 degrees and your basement is flooding.
The first step to mitigating any damage that occurs when a pipe bursts is to shut off the water as quickly as possible. Next call your HVAC company in Gaithersburg. They'll be able to come over quickly to assess and begin to fix the problem.
Preventing frozen pipes has a lot to do with making sure that your entire heating system is running as it's supposed to. Ensure your thermometer is set to a high enough setting to avoid freezing throughout the day and night.
Filthy Filters
Just like your air conditioning system, your furnace has filters that need to be changed regularly as well. A dirty filter can increase the number of allergens in your home. Not only can a dirty filter decrease air quality, but if it truly becomes blocked it can decrease the air circulation within your home, the efficiency of your system, and the heat that gets into your home.
Luckily, changing furnace filters is relatively easy to do. You can easily replace the filter following the directions on the filter manual. But if you're struggling with decreased air circulation, you may want to call out your HVAC company in Gaithersburg. Decreased air circulation could also be related to a motor or fan issue.
Preventative maintenance is a great way to keep your heating system running efficiently. A twice yearly checkup by your Rod Miller technician ensures that all fans or motors are replaced before they become an issue and your filters are changed regularly.
Blocked Ducts
During winter many little creatures can find their way into your duct system looking for a warm place to hibernate during the cold months. Regular duct cleanings can help remove any debris left behind by nests or other debris from renovations or other household construction work.
Check to make sure your heating vents aren't blocked by furniture, curtains, or rugs. Contrary to popular belief, you shouldn't close off more than 40% of your home's air registers. Instead of reducing stress, this can actually add stress to your HVAC system, decrease its efficiency, and shorten its longevity.
Misbehaving Pilot Lights
Your pilot light should run a small flame continuously to fully ignite your heater. A misbehaving pilot light can lead to cold and uncomfortable temperatures in your home if it doesn't burn brightly or flickers on and off.
Pilot light issues can be caused by broken flame sensors that need cleaning or replacement. Make sure you call an experienced HVAC company in Gaithersburg to handle any pilot light issues. When working with a live flame, it's very important to be aware of what you're doing.
You can prevent issues with your pilot light by having twice yearly preventative maintenance. This way your HVAC technician can replace or clean broken or dirty parts before they start causing problems for your home comfort.
Carbon Monoxide
Last year three people in Montgomery County were hospitalized due to carbon monoxide poisoning. Unfortunately wintertime incidents of carbon monoxide poisoning are higher due to more time spent in enclosed spaces and heating systems running that haven't been used all winter. Fuel-burning space heaters should never be run in enclosed spaces due to the risk of carbon monoxide. If you have to run a space heater, run an electric one that poses no risk of carbon monoxide poisoning.
A well-functioning furnace should guide carbon monoxide out of your home through a flue vent. However, if your flue vent is blocked or your furnace has a cracked heat exchanger, you run the risk of the carbon monoxide coming back into your home.
To avoid a carbon monoxide leak, there are a few actions you can take. Utilize your HVAC company in Gaithersburg for preventative maintenance that can fix a cracked heat exchanger or a blocked flue vent before it becomes an issue. It's always a good idea to have an HVAC technician check over your heating system before the system is used for wintertime heating. Keeping your house warm can put stress on failing parts and cause them to break sooner rather than later.
Avoid Wintertime HVAC Issues
A cold house isn't very comfortable to live in. It's important that your heating system doesn't fail you in the middle of winter. Avoid wintertime HVAC issues with preventative maintenance that catches any problems before they start.
Rod Miller offers yearly service agreements that are designed to keep your home safe and your heating or cooling system running efficiently. These contracts feature two maintenance checkups per year that increase the lifetime of your systems and reduce the risk of unexpected breakdowns.
Avoid wintertime HVAC failures. Schedule your HVAC checkup today.