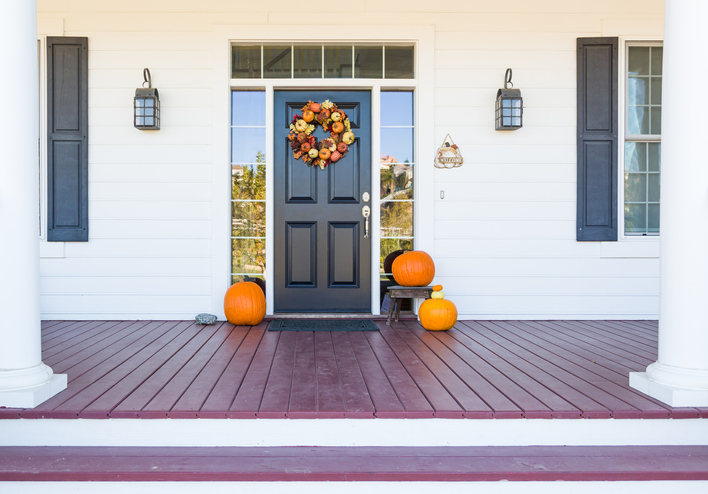 October is a beautiful time of year. The fall leaves are at their colorful peak in Gaithersburg, Maryland and we finally get a break from boiling summer temperatures. Yes, the days get shorter and the leaves start to fall. But, on the positive side, Halloween is just around the corner and most people are starting to prepare for the holidays.
Preparations for the winter months don't just include holiday shopping and house cleaning. It's important to prepare your HVAC system too. Most HVAC companies in Gaithersburg recommend spending some time on home maintenance this October, especially in getting your HVAC system ready for the colder winter months. Remember, an ounce of prevention is worth a pound of cure. Taking care of your HVAC system now can save you the headache of a broken system in January.
 1. Replace Weather-Stripping and Caulking
One way to keep your home energy-efficient is to pay attention to the little things that can save you lots. By replacing weather-stripping and caulking on doors and windows, you're sealing up small cracks that can suck your heat right out the door. Most of the time when we provide HVAC service in Gaithersburg, we notice that the weather-stripping needs to be replaced. By replacing just this small but essential piece of hardware, you'll notice some degree of savings on your wintertime energy bills. For more energy-efficient tips, check out one of our recent blog posts, "How to Perform Your Own Energy Audit Before Winter Starts."
2. Clean HVAC Filters
One thing most HVAC owners in Gaithersburg forget to do is clean out their filters. A dirty filter can restrict airflow throughout your home and put more strain on your system. Regular cleanings can not only re-open that airflow, but they can also the number of pollutants trapped in the filter. If your filter is clogged, it's probably maxed out the number of airborne particles that it can collect. Replacing your filter regularly can ensure you have better indoor air quality.
When choosing a filter for your home, make sure you choose the right MERV value. An air filter with too high of a Minimum Efficiency Reporting Value does trap the majority of particles. But it can also restrict airflow and decrease your energy efficiency.
3. Check Your Ductwork
It's a good idea to take a look at your home's ducts at least once a year. October is the perfect time for this home maintenance chore as your HVAC system in Gaithersburg is operating less frequently due to the milder weather. When checking your ducts look for signs of pest infestation. This can include rat droppings, ants, excess dust, and odors. Also, check for signs of broken seals and leaks. As the weather gets colder, pests will start to seek warmth by moving inside your home. Broken seals in your ducts can let them in.
A thorough ductwork service is best left to the professionals. At Rod Miller, we recommend cleaning your ducts every three to five years. However, we'll always tell you if your ducts don't need it.
4. Clear Debris from Outdoor Unit
While the leaves in Gaithersburg have put on an alright show this year, October is the month they truly start to fall. Don't let them build up around your outdoor HVAC unit in Gaithersburg. Debris buildup can greatly restrict the air flowing into your system and put extra strain on the unit. Always leave a buffer zone of at least 2 feet around all HVAC equipment.
5. Cut Back Large Tree Limbs
Have you noticed any tree limbs overhanging your home recently? These limbs can be very dangerous if left unchecked. As the temperature continues to drop, trees become susceptible to winter burn, which is caused by a lack of water. This weakens tree limbs and can make them more likely to fall under the weight of winter ice or snow. If a tree limb falls on your HVAC Gaithersburg equipment, you could be looking at a hefty bill, let alone if it damages your roof as well.
6. Test Emergency Equipment
Smoke and carbon monoxide alarms are essential pieces of equipment for every homeowner to have. But if they're not tested regularly then you could be putting your family at risk. It's a good idea to test your alarms with every change of the season, particularly before the winter months. While we're on the subject, a common misconception is that a cracked heat exchanger can leak carbon monoxide into your home. While it's important to replace all cracked or rusted HVAC equipment in your Gaithersburg home, carbon monoxide is not a worry when it comes to a cracked heat exchanger. Still, a carbon monoxide detector is a truly important device to have in every home.
7. Insulate for Energy Efficiency
Too often we hear from homeowners who want to upgrade their HVAC system in Gaithersburg for a newer model in order to increase energy efficiency. While sometimes this is the right path to take, it's not always correct. Oftentimes homeowners who struggle with energy efficiency live in an energy inefficient home. Putting a higher efficiency HVAC unit in your home won't save you much money. What will cut costs on your energy bill is making your entire home more efficient. This includes hanging curtains, using door snakes, and replacing weather-stripping.
October is a great month for home insulation. Energy bills tend to go up over the winter and extra insulation can keep heat inside your home.
8. Clean Dryer Vents
When was the last time you cleaned out your dryer vent? Dryer vents play an important role in filtering out lint and other debris from your clothes. However, they can also be a fire hazard if not cleaned regularly. Dryer duct cleaning doesn't have to be a big deal, you can even do it yourself with a kit from Home Depot.
9. Reseed the Lawn
Contrary to popular belief, in Gaithersburg, early October is actually a good time of year to reseed the lawn. If you reseed your lawn in the middle of the summer, the hot sun can scorch and parch the seeds, giving them no chance to set down roots. Even if you reseed in early spring, the seeds won't have much root depth before the heat kicks in. By planting in late September/early October, you're giving your seeds a good amount of time to set in deep roots before the first frost. This means that come Spring, you'll have several more months of growth before the heat begins to scorch your lawn.
10. Get Your HVAC System Professionally Maintained
Not everything in home maintenance is DIY. As a matter of fact, there are some home maintenance tips that you do not want to do yourself. Maintaining your HVAC system is one of them. If you own an HVAC system in Gaithersburg, don't attempt to service your equipment yourself. At Rod Miller, we offer service agreements that will keep your system running at its best. Are you ready for winter? Start now with Rod Miller Heating and Air Conditioning.