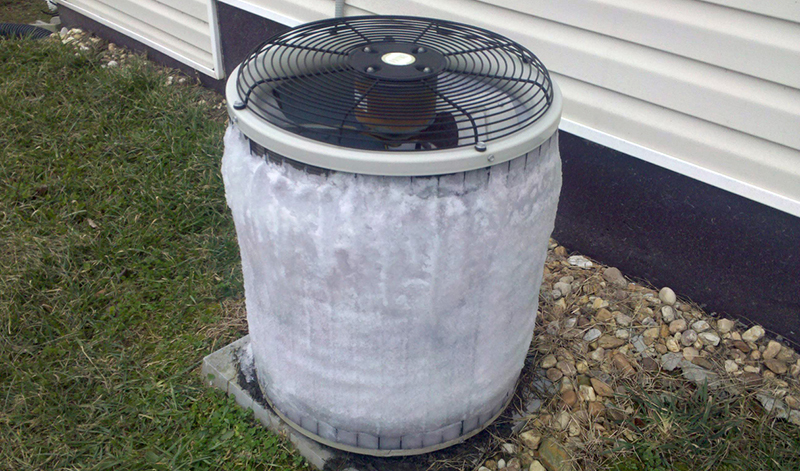 Can your air conditioning be repaired? Or will it need to be replaced?
It's a stressful decision for any homeowner – and, somehow, it's not any easier when you're asking it in the humid heat of summer from a house with broken AC.
We get it. And we can help. At Rod Miller, we always work for the solution that makes the most sense for you. Based on our 50+ years of helping homeowners navigate these choices, here are four scenarios where you should consider replacing your air conditioning system.
1. Your air conditioning system is out of warranty on needed repairs.
The first factor to consider is the status of your system's warranty.
Most leading air conditioning brands (including Bryant) now offer 10-year parts warranties, meaning that, if a part breaks before the warranty is up, you won't have to pay for its replacement apart from labor costs. This can make the vast majority of repairs very affordable while the warranty is in effect.
However, when the warranty expires, repairs become significantly more expensive. At this stage, you'll likely do well to look at replacement instead of repair. Some repairs on relatively inexpensive parts may still be worth it – you can often replace motors, for instance, at a cost of several hundred dollars – but the balance swings quickly toward replacement when your warranty expires.
2. Your air conditioning system is over 15 years old.
Manufacturers set their warranties at 10 years because that's the age at which issues tend to become more common. Warranties aside, if your air conditioning system has been working for over a decade, any issues may signal that the time for replacement is near.
Even if you're able to fix your unit past this age, it likely won't be for too long. Like a car, the value of the system declines over time and use; when they're older, they're "totaled" more easily. Generally, you can expect to get 12 to 15 years of useful life from an air conditioning system, so if you do fix something like a blower motor, you're likely prolonging the inevitable for a year or two. That's not to say that it can't be worth it – it's just to say that replacement becomes more appealing.
3. Repairs are needed on a major system component.
Regardless of your system's age, if a major component breaks down, your system may be in jeopardy. We qualify compressors, coils, and heat exchangers as potential "extinction-level" events. If one of these components goes, the system will need a major overhaul.
Replacing a compressor, for example, is like replacing the engine in a car – at a certain point, it's probably just better to get a new car than to swap out what makes it run. Heat pumps, on the other hand, are the context for one of the most difficult HVAC repairs on the planet: replacing the reversing valve. It can be done, but it's definitely not easy, and if it isn't nailed it can lead to compounding system damages.
Unfortunately, when working on major repairs, issues can sometimes snowball; you may fix a part but not find the underlying cause for its breakage, leading to more problems down the line.
As a final note, if your system isn't using R-410A refrigerant (the current product), then refrigerant issues may also spur you to replacement. Older systems often use R-22 refrigerant, but due to changing environmental guidelines, it's in short supply and can be prohibitively expensive.
4. Your air conditioning system is inefficient or performs poorly.
Finally, you may want to consider replacing your air conditioning if your system is inefficient.
How can you tell if your system is inefficient? Well, inefficient systems lead to higher energy costs, for one thing (although it's worth noting that other factors – like your home's insulation and the settings you use – will also impact this).
Additionally, if your system doesn't effectively optimize your home's humidity levels, it probably isn't an ideal fit for your space. Air conditioning systems should be designed to fit your home. The best ones evenly cool your space and keep humidity levels down by running over a period of time instead of cooling in very short bursts.
While efficiency is appealing, it's worth noting:
If your system is functional, 2020 may not be the year to upgrade.
The pandemic has led to supply chain issues for nearly every air conditioning manufacturer; during shutdowns (both inside and outside the US), components and parts weren't getting made because people weren't in manufacturing facilities to make them. Demand, of course, has remained the same. The result is that across the country, many homeowners are waiting on parts to come in. If you choose to upgrade your system now, you'll likely be in the same boat.
The bottom line: You should only replace when it makes sense.
The truth is that it often makes more sense to repair than to replace. If your warranty is active and your unit is in the middle of its expected useful life, repairs are often the best way forward.
If you'd like guidance in your decision, get in touch with us.
At Rod Miller, we offer free second opinions on air conditioning issues. If someone's told you that your system needs to be replaced but you're feeling unsure about the recommendation, give us a call. Our technicians aren't paid by how much they sell, so they're not incentivized to push you toward replacement if it doesn't make sense. We strive to treat all of our customers like family, and many times, that means making the extra effort to make a repair instead of opting for a (more expensive) replacement.
If you're having air conditioning issues, we're here to help.